Creditor Payment Authorizations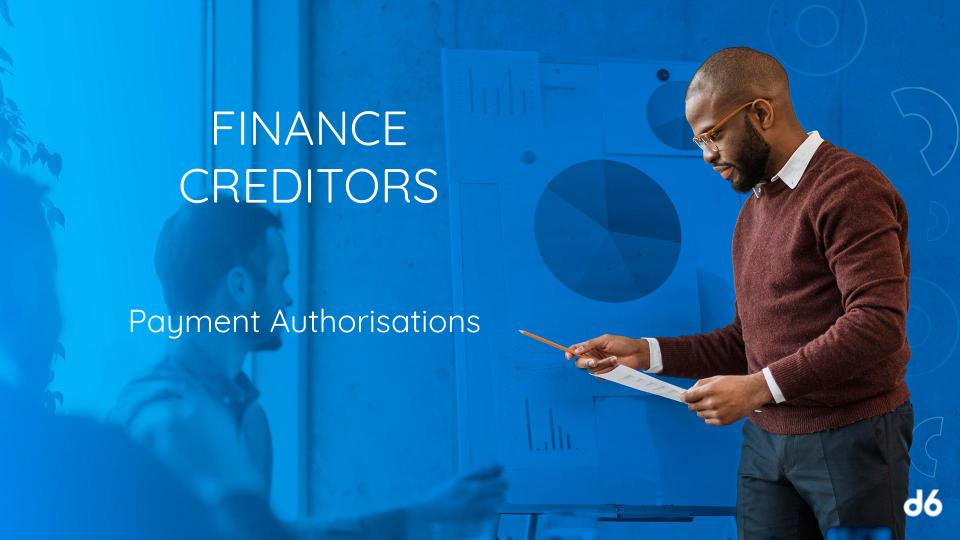 How to authorize a payment
Click on the " create a payment authorization" button


All credit notes transactions and supplier details will be displayed


You can approve transaction per creditors by selecting the creditor account

The screen will display only the transactions listed with the selected creditor.

Select transactions for the payment authorization

Select either EFT or Cash depending on how the payment will be made

To preview the items linked to the credit note, select the blue circle on your right to expand and preview the items.


The payments column is only displayed to provide more information

The available amount to authorize is calculated as Amount + or - Journals - Authorized.


After selecting the transactions to approve, click on " Create payment authorization "

© Copyright d6 group (Pty) Ltd

Related Articles

Creditor Invoices

This function facilitates the capturing of invoices on supplier accounts. Captured invoices can be sent for approval or saved as a draft to be completed later. How to create an invoice Click on the "create an invoice " button Select the Creditor for ...

Creditor Accounts

This function allows you to create accounts for the various suppliers of the school. This will facilitate the capturing of supplier transactions including invoices, credit notes and payments on this account. Please note that this is not the General ...

Creditor Journals

Adjustments between ledger accounts and creditors are done using journals How to process a creditors journal Click on the "do an adjustment " button Select the creditor account and select " Continue" Credit notes details that have been authorized for ...

Creditor Age Analysis

How to generate an age analysis Choose the date on which you want to generate the report Choose whether you want to generate the report according to "creditors", "ledger control account" or "other debtors" Choose whether you want to generate the ...

Payment Options

Finances > Debtors > Payment Options Type <Ctrl> <F> to search for words in the article Payment options are set up once a year to ensure that learners are billed for things like school fees and any other fees on a monthly basis. Once a payment option ...